IOLAN SDSC LDCKonsolenserver
für Telekommunikationseinrichtungen NEBS-Zertifiziert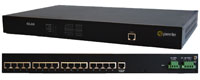 8, 16 und 32 serielle Ports auf RJ45 - über Software wählbar RS232/422/485
Dualer Spannungseingang im Bereich 18 - 72 VDC ( 48 VDC Nennspannung )
Zertifiziert gemäß NEBS Level 3 ( SR-3580 ),
GR-1089-CORE, GR-63-CORE
Erweiterte Sicherheit einschließlich TACACS- und RADIUS-Authentifizierung
Dual 10/100/1000 Ethernet mit Redundant Path Technologie
Techniker und Projektmanager von Telekommunikationseinrichtungen benötigen eine kostengünstige Seriell-zu-Ethernet-Lösung, um Netzwerkeinrichtungen zu überwachen und zu verwalten, die häufig in unbesetzten Datencentern, entlegenen POP-Standorten und Zweigstellen installiert sind. IOLAN SDSC LDC Konsolenserver sind zertifiziert, um die im Telcordia Network Equipment Building Standard (NEBS) Level 3 spezifizierten strengen Telekommunikationsumgebungen gerecht zu werden.
IOLAN SDSC LDC Konsolenserver eignen sich besonders für:
Techniker und Projektmanager im Bereich Telekommunikation, die eine leistungsfähige Seriell-zu-Ethernet-Lösung für den Zugriff auf serielle Konsolenports in Netzwerkeinrichtungen benötigen
Telekommunikationseinrichtungen, die eine Lösung für das Out-of-Band-Management mit erweiterten Sicherheitsfunktionen und Zertifizierung gemäß NEBS Level 3 benötigen
Warum IOLAN SDSC LDC Konsolenserver die bevorzugte Wahl sind:
Von anerkannten Prüfanstalten gemäß NEBS Level 3 zertifiziert
Unterstützt den breiten Spannungsbereich von 18 – 72 VDC, der in 48-VDC-Telekommunikationseinrichtungen erforderlich ist
Dualer Spannungseingang für fehlertoleranten Zugriff auf Gleichstrom
Erweiterte Sicherheitsmerkmale

TACACS+ und RADIUS für zentralisierte Authentifizierung, Autorisierung und Accounting
Zwei-Faktor-Authentifizierung wie SecureID von RSA
HTTPS, SSL/TLS, SSH (AES, 3DES) Sitzungsverschlüsselung
Tastenanschlag- und Datenprotokollierung

Serielle Cisco RJ45-Port-Pinbelegung ermöglicht Anschluss an Cisco/Sun-Konsolenports unter Verwendung gängiger serieller CAT5-Rolloverkabel
400 Mhz, 750 MIPS, 32 bit Prozessor mit integriertem Hardware-Verschlüsselungsprozessor für den besten verfügbaren Durchsatz
EasyPort Web – Zugriff auf serielle Konsolenports über einen Java-fähigen Internetbrowser
Java-freier Browserzugriff auf serielle Remote-Konsolenports über Telnet und SSH
Lebenslange Gewährleistung – Der beste Investitionsschutz, den es gibt
Software Features - IOLAN SDSC LDC Konsolenserver
Serial Port Access
Connect directly using Telnet / SSH by port and IP address
Connect with EasyPort menu by Telnet / SSH
Use an internet browser to access with HTTP or secure HTTPS via EasyPort Web menu
Java-free browser access to remote serial console ports via Telnet and SSH
Ports can be assigned a specific IP address ( aliasing )
Multisession capability enables multiple users to access ports simultaneously
Multihost access enables multiple hosts/servers to share serial ports
Accessibility
In-band ( Ethernet ) and out-of-band ( dial-up modem ) support
Dynamic DNS enables users to find a console server from anywhere on the Internet
Domain name control through DHCP option 81
IPV6 and IPV4 addressing support
Availability
Primary/Backup host functionality enables automatic connections to alternate host(s)
Security
SSH v1 and v2
PCI DSS Compliance: TLS v1.2, TLS v1.1, TLS v1.0, SSL v3.0, SSL v2.0
SSL Server and SSL client mode capability
SSL Peer authentication
IPSec VPN : NAT Traversal, ESP authentication protocol
SSH ciphers: AES-CTR, AES-GCM and ChaCha20-poly1305
SSL encryption: AES-GCM, key exchange ECDH-ECDSA, HMAC SHA256, SHA384
Encryption: AES (256/192/128), 3DES, DES, Blowfish, CAST128, ARCFOUR(RC4), ARCTWO(RC2)
Hashing Algorithms: MD5, SHA-1, RIPEMD160, SHA1-96, and MD5-96
Key exchange: RSA, EDH-RSA, EDH-DSS, ADH
X.509 Certificate verification: RSA, DSA
Certificate authority (CA) list
Local database
RADIUS Authentication, Authorization and Accounting
TACACS+ Authentication, Authorization and Accounting
LDAP, NIS, Kerberos Authentication
RSA SecureID-agent or via RADIUS Authentication
SNMP v3 Authentication and Encryption support
IP Address filtering
Disable unused daemons
Active Directory via LDAP
Terminal Server
Telnet
SSH v1 and v2
Rlogin
Auto session login
LPD, RCP printer
MOTD - Message of the day
Serial machine to Ethernet
Tunnel raw serial data across Ethernet - clear or encrypted
Raw serial data over TCP/IP
Raw serial data over UDP
Serial data control of packetized data
Share serial ports with multiple hosts/servers
Virtual modem simulates a modem connection - assign IP address by AT phone number
Virtual modem data can be sent over the Ethernet link with or without SSL encryption
TruePort com/tty redirector for serial based applications on Windows, Linux, Solaris, SCO, HP UX, NCR UNIX and AIX. For a complete list of all the latest drivers click here
"TrueSerial packet technology provides the most authentic serial connections across Ethernet ensuring serial protocol integrity"
RFC 2217 standard for transport of serial data and RS232 control signals
Customizable or fixed serial baud rates
Plug-ins allow customer or Perle provided plug-ins for special applications
Software Development Kit ( SDK ) available
Serial encapsulation of industrial protocols such as ModBus, DNP3 and IEC-870-5-101
ModBus TCP gateway enables serial Modbus ASCII/RTU device connection to ModBus TCP
Data logging will store serial data received when no active TCP session and forward to network peer once session re-established - 32K bytes circular per port
Console Management
Sun / Oracle Solaris Break Safe
Local port buffer viewing - 256K bytes per port
External port buffering via NFS, encrypted NFS and Syslog
Event notification
Manage AC power of external equipment using Perle RPS power management products
Clustering - central console server enables access ports across multiple console servers
Windows Server 2003/2008 EMS - SAC support GUI access to text-based Special Administrative Console
Remote Access
Dial, direct serial
PPP, PAP/CHAP, SLIP
HTTP tunneling enables firewall-safe access to remote serial devices across the internet
Automatic DNS Update
Utilize DHCP Opt 81 to set IOLAN domain name for easy name management and with Dynamic DNS support , users on the Internet can access the device server by name without having to know its IP address. See Automatic DNS update support for details
IPSEC VPN client/servers
Microsoft L2TP/IPSEC VPN client ( native to Windows XP)
Microsoft IPSEC VPN Client ( native to Windows Vista )
Cisco routers with IPSEC VPN feature set
Perle IOLAN SDS/STS and SCS models
OA&M ( Operations, Administration and Management )
SNMP V3 - read and write, Perle MIB
Syslog
Perle Device Manager - Windows based utility for large scale deployments
Configurable default configuration
Installation Wizard
Set a Personalized Factory Default for your IOLANs
Protocols
IPv6, IPv4, TCP/IP, Reverse SSH, SSH, SSL, IPSec/IPv4, IPSec/IPv6, L2TP/IPSec, CIDR, RIPV2/MD5, ARP, RARP, UDP, UDP Multicast, ICMP, BOOTP, DHCP, TFTP, SFTP, SNTP, Telnet, raw, reverse Telnet, LPD, RCP, DNS, Dynamic DNS, WINS, HTTP, HTTPS, SMTP, SNMPV3, PPP, PAP/CHAP, SLIP, CSLIP, RFC2217, MSCHAP
Hardware Specifications - IOLAN SDSC LDC Console Servers
SDS8C LDC
SDS16C LDC
SDS32C LDC
Processor
MPC8349E, 400 Mhz, 750 MIPS
Memory
RAM MB
64
64
64
Flash MB
16
16
16
Interface Ports
Number of Serial Ports
8
16
32
Serial Port Interface
Software selectable RS232 / RS485 / RS422 DTE on RJ45 - RS485: full and half duplex
Sun / Solaris
Sun / Oracle 'Solaris' Safe - no "break signal" sent during power cycle causing costly server re-boots or downtime
Serial Port Speeds
50bps to 230Kbps with customizable baud rate support
Data Bits
Configurable for 5,6,7 or 8-bit protocol support
Use TruePort to transparently pass 9-bit serial data
Parity
Odd, Even, Mark, Space, None
Flow Control
Hardware, Software, Both, None
Local Console Port
RS232 on RJ45 with DB9 adapter (provided )
Network
Dual 10/100/1000-base TX Ethernet RJ45
Software selectable Ethernet speed 10/100/1000, Auto
Software selectable Half/Full/Auto duplex
Failsafe Alarm Relay
3A@24v DC. Normally open contacts closed by IOLAN when active and opened upon alarm condition or power failure
Power
Dual Power Supply
2 x Pluggable Terminal Blocks with screw terminals accommodating 28 - 12 AWG wire sizes
Nominal Input Voltage
24v DC / 48v DC
Input Voltage Range
18 - 72v DC
Current Consumption @ 18v DC (Amps)
0.4
0.55
0.85
Current Consumption @ 24v DC (Amps)
0.3
0.4
0.65
Current Consumption @ 48v DC (Amps)
0.2
0.25
0.35
Current Consumption @ 72v DC (Amps)
0.15
0.18
0.25
Typical Power Consumption (Watts)
11
13
18
Chassis Ground
Grounding screw for a #10 ring terminal
Indicators
LEDs
Power
System Ready
Network Link activity
Serial: Transmit and Receive data per port
Environmental Specifications
Heat Output (BTU/HR)
37.6
44.4
61.5
MTBF(Hours)
126,302
105,495
82,402

Calculation model based on MIL-HDBK-217-FN2 @ 30 °C

Operating Temperature
-40C ambient for 16 hours and +70C ambient for 16 hours without use of fans
Storage Temperature
-40C to 85C, -40F to 185F
Humidity
5 to 95% (non condensing) for both storage and operation.
Case
SECC Zinc plated sheet metal (1 mm)
Ingress Protection Rating
IP30
Mounting
1U - 19" rack, front and rear mounting hardware included.
DIN Rail mounting kit optional
Product Weight and Dimensions
Weight
3.16 kg
3.18 kg
3.36 kg
Dimensions
1U Rack form factor - 26.4 x 43.4 x 4.4 (cm), 10.38 x 17.1 x 1.75 (in)
Packaging
Shipping Weight
3.96 kg
3.98 kg
4.16 kg
Shipping Dimensions
59 x 36 x 9 (cm), 23 x 14 x 3.5 (in)
Regulatory Approvals
Network Equipment Building Systems (NEBS)
SR-3580 NEBS Level 3
GR-1089-CORE : NEBS EMI and Safety
GR-1089-CORE per Verizon VZ.TPR.9205 and ATT-TP-76200
GR-63-CORE: NEBS Physical Protection
GR-63-CORE / ANSI T1.319 per Verizon VZ.TPR.9305 and ATT-TP-76200
Emissions
Power Line conducted: IEC 61850-3 Sec 5.8
CISPR 32:2015/EN 55032:2015 (Class A)
EN55011 (CISPR11)
Telecom Line conducted: IEC 61000-6-4
Radiated: IEC 61850-3 Sec 5.8
CISPR 24:2010/EN 55024:2010
EN61000-3-2 : 2010 Limits for Harmonic Current Emissions
EN61000-3-3 : 2010, Limits of Voltage Fluctuations and Flicker
EMC Interface Immunity
IEC 61850-3 (substations)
IEEE 1613 (substations) (C37.90.x)
Applies to all ports, signal and power connections
ESD: IEC61000-4-2, 8Kv Contact / 15Kv Air
Radiated RFI: IEC61000-4-3, 20 V/m (80M-1G)
Fast Transients / Burst: IEC61000-4-4, 4Kv Mains , I/O
Surge : IEC61000-4-5
4Kv AC line to Gnd, 2Kv AC Line to Line,
2Kv DC line to Gnd, 1 Kv DC Line to Line,
RS232 = balanced, ethernet = unbalanced
Conducted RF: IEC61000-4-6, 10 Vrms
Magnetic Field: IEC61000-4-8, 100 A/m, 1000 A/m (1 sec)
Dips and Interrupts: IEC61000-4-11, Criteria A/B/C
Oscillatory: EN61000-4-12, 2.5Kv common and differential mode
Low Frequency conducted: EN61000-4-16, 30V 60s, 300V 1s,15Hz-150KHz @ level 3
Safety
UL/EN/IEC 62368-1
CAN/CSA C22.2 No. 62368-1
IEC 60950-1(ed 2); am1, am2 and
EN 60950-1:2006+A11:2009+A1:2010+A12:2011+A2:2013
NEBS GR-1089-CORE ISSUE 4 (Level 3, Type 2 and Type 4)
Other
Reach, RoHS and WEEE Compliant
Directive 2011/65/EU restriction of the use of certain hazardous substances in electrical and electronic equipment and meets the following standard:: EN 50581:2012
CCATS - G168387
ECCN - 5A992
HTSUS Number: 8517.62.0020
Perle Lifetime Warranty
IOLAN RJ45 Serial Connector Pinout

RJ45 Socket

Pinout
Direction
EIA-232
EIA-422
EIA-485 Full Duplex
EIA-485 Half Duplex
1
out
RTS
TxD+
TxD+
DATA+
2
out
DTR
3
out
TxD
TxD-
TxD-
DATA-
4
GND
GND
GND
GND
5
GND
GND
GND
GND
6
in
RxD
RxD+
RxD+
7
in
DSR
8
in
CTS
RxD-
RxD-
(A rolled CAT5 cable will automatically perform DTE to DCE crossover)

Optional Perle adapters for use with straight thru CAT5 cabling
TCP
RAW TCP Sockets
Eine Raw-TCP-Socket-Verbindung, die vom Seriell Ethernet Gerät oder vom entfernten Host/Server initiiert werden kann. Das kann entweder auf Punkt-zu-Punkt-Basis oder gemeinsam erfolgen, d. h. ein serielles Gerät kann von mehreren Geräten gemeinsam verwendet werden. TCP-Sitzungen können entweder von der TCP-Server-Anwendung oder vom Perle IOLAN Seriell-zu-Ethernet-Adapter gestartet werden.

UDP
Raw-UDP-Sockets
Für den Einsatz in UDP-gestützten Anwendungen können Perle IOLANs die Daten serieller Geräte zum Transport mit UDP-Paketen entweder auf Punkt-zu-Punkt-Basis oder zur gemeinsamen Benutzung durch mehrere Geräte konvertieren.
Konsolenmanagement
Konsolenmanagement
Für den Zugang zu entfernten Konsolen-Ports bei Routern, Switches usw. ermöglichen die Perle IOLANs den Administratoren, Über ein In-Band-Reverse-Telnet/SSH oder Out-of-Band durch DFÜ-Modems sicher auf die RS232-Ports zuzugreifen. Es sind IOLAN-Modelle von Perle mit integrierten Modems erhältlich.
COM/TTY
Anschluss seriell-gestützter Anwendungen mit COM/TTY-Port-Treiber
Serielle Ports können über virtuelle COM-Ports an Netzwerkserver oder Workstations angeschlossen werden, auf denen die TruePort-Software von Perle ausgeführt wird. Sitzungen können entweder vom Perle IOLAN oder von TruePort gestartet werden.

Tunneling
Serielles Tunneling zwischen zwei seriellen Geräten
Serielles Tunneling ermöglicht es Ihnen, eine Ethernet-Verbindung zu einem seriellen Port von einem IOLAN zum anderen IOLAN herzustellen. Beide seriellen Ports der IOLANs müssen für das serielle Tunneling konfiguriert werden (normalerweise wird ein serieller Port als Tunnel-Server und der andere serielle Port als Tunnel-Client konfiguriert).

Virtuelles Modem
Virtuelles Modem (Ethernet Modem)
Vmodem ermöglicht es dem Perle IOLAN, eine Modemverbindung zu simulieren. Nach dem Anschluss an den IOLAN wird eine Modemverbindung initiiert, und der IOLAN startet eine TCP-Verbindung zu einem anderen IOLAN, der mit dem seriellen Port eines virtuellen Modems konfiguriert wurde, oder zu einem Host, auf dem eine TCP-Anwendung ausgeführt wird.