Industrieller Ethernet-Switch IDS-105F
Kompakter Switch für DIN-Schienen mit 5 Ports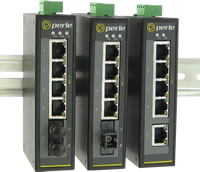 10/100Base-TX mit 5 Ports (RJ45)
10/100Base-TX mit 4 Ports (RJ45) und einem SC/ST LWL-Port
Zertifizierung für Gefahrenstellen und Industrieschaltgeräte
Korrosionsbeständiges Aluminiumgehäuse IP30
Redundanter dualer Spannungseingang 12/24/48 VDC, 18 bis 30 VAC
Überlaststrom- und Verpolungsschutz
Unterstützung einer industriellen Betriebstemperatur zwischen -40 °C und 75 °C
Ethernet-Switches in Industriequalität von Perle sind speziell konzipiert, um den extremen Temperaturen, Spannungsspitzen, Vibrationen und Stößen in der industriellen Automatisierungstechnik sowie in behördlichen, militärischen Anwendungen und bei Öl-, Gas-, Bergbau- und Outdoor-Anwendungen standzuhalten.
Der IDS-105F ist ein industrieller Ethernet-Switch mit 5 Anschlüssen, der eine hervorragende Leistung bietet, um so einen deterministischen Netzwerkbetrieb in Echtzeit zu ermöglichen. Er muss nicht konfiguriert werden und ist sofort nach dem Einschalten betriebsbereit.
IDS-105F sind robuste, gebläselose Switches, die in einer Reihe von Modellen erhältlich sind. Sie wurden speziell gehärtet, um so überragende Verlässlichkeit im Temperaturbereich von 0 °C bis 60 °C, bzw. unter harschen Betriebsbedingungen in einem größeren Temperaturbereich von -40 °C bis 75 °C zu bieten.
Perle hat seit über 35 Jahren industrielle Hardware für die Konvertierung serieller ModBus- und Profinet- zu Ethernet-Umgebungen entwickelt und diese Erfahrung für die Entwicklung der robustesten Ethernet-Switches auf dem Markt genutzt. Vertrauen Sie Ihre kritischen Kommunikationen keinen kommerziellen Switch-Produkten an. Die industriellen Ethernet-Switches von Perle bieten Ihnen die bewährte Gewissheit, dass Ihr System noch lange Jahre ordnungsgemäß funktionieren wird.
Funktionen Industrieller Ethernet-Swtich IDS-105F
Robuste Ausführung für harsche Umgebungen

Korrosionsbeständiges Aluminiumgehäuse IP30
Gemäß UL508A für die Sicherheit von Industrieschaltgeräten zertifiziert
Für Gefahrenstellen – Klasse 1/Div2, ATEX Klasse 1/Zone 2

Verlässlicher Betrieb

Gebläselos, keine beweglichen Teile, nicht blockierende Architektur
Dualer Spannungseingang. Für die Redundanz an separate Netzteile anschließen.

Verpolungsschutz
Überlaststromschutz

Widersteht den Vibrationen und Stößen, die in Industrieumgebungen vorkommen

Echtzeit-Ethernetleistung

Schnelle Übertragungsgeschwindigkeit sowie schnelles Speichern und Vorwärtsschalten, nicht blockierende Architektur
Automatische Erfassung von Geschwindigkeit und Duplex
Auto-mdi/mdix-Crossover mit geraden und gekreuzten Kabeln

Zertifizierung nach FCC Klasse B

Der erste und einzige DIN Rail Switch auf dem Markt, der für den Einsatz in Bereichen, in denen eine besonders geringe Emission erforderlich ist, verkauft wird.
Keine Frequenzstörungen mit anderen Geräten.
Power
Dual
Power
Input
Both inputs draw power simultaneously. If one power source fails, the other live source can, acting as a backup, supply enough power to meet the operational needs of the switch.

12/24/48 VDC Nominal. (9.6 to 60 VDC)
18 to 30 VAC
Power
4-Pin Removable Terminal Block.
Connector
Grounding screw on metal chassis
Maximum Current Consumption
@24 vDC
140 mA
Maximum Power
Consumption
@24 vDC
3.4 Watts
Overload
Current
Protection
Reset-able fuse provides overload current protection
Reverse
polarity
protection
The positive and negative inputs can be reversed providing safe and simple power connectivity.
Access Ports
RJ45
4 or 5 shielded RJ45 ports for 10/100Base-TX up to 100 meters (328 ft)
Auto-negotiation
Auto-MDI/MDIX-crossover for use with either crossover over straight-through cable types
Ethernet isolation 1500 V
Fiber port
1 x fixed fiber port
Duplex SC or ST connector


Multimode 50/125 or 62.5/125 micron fiber cable
Single mode 9/125 micron fiber cable

Simplex (BIDI, single strand) SC connector


Multimode 50/125 or 62.5/125 micron fiber cable
Single mode 9/125 micron fiber cable

PC and UPC type patch cords supported.
Fixed
Fiber
Port
Specs

Fiber1
Type
Transmit
(dBm)
Receive
(dBm)
Power
Budget
(dB)
Wavelength
(nm)
IEEE
Core
Size
(um)
Modal
Bandwidth
(MHz
*Km)
Maximum
Operating
Distance
Min
Max
Min
Max
MMF
(Duplex
SC/ST)
-20.0
-12.0
-31.0
-14.0
11.0
1310
100Base-FX
50
800*
5 Km
3.1 mi
62.5
500*
4 Km
2.5 mi
62.5
200
2 Km
1.2 mi
MMF
(Simplex
SC/ST)
-15.0
0.0
-28.0
-8.0
13.0
1310 / 1550
1550 / 1310
100Base-BX-U
100Base-BX-D
62.5
200
2 Km
1.2 mi
SMF
(Duplex
SC/ST)
-18.0
-7.0
-32.0
-3.0
14.0
1310
100Base-LX
9
**
20 Km
12.4 mi
SMF
(Simplex
SC)
-14.0
-8.0
-32.0
-3.0
18.0
1310 / 1550
1550 / 1310
100Base-BX-U
100Base-BX-D
9
**
20 Km
12.4 mi
SMF
(Duplex
SC/ST)
-5.0
0.0
-34.0
-3.0
29.0
1310
100Base-EX
9
**
40 Km
24.9 mi
SMF
(Simplex
SC)
-8.0
-3.0
-33.0
-3.0
18.0
1310 / 1550
1550 / 1310
100Base-BX-U
100Base-BX-D
9
**
40 Km
24.9 mi
SMF
(Duplex
SC/ST)
-5.0
0.0
-34.0
-3.0
29.0
1550
100Base-ZX
9
**
80 Km
4.79 mi
SMF
(Duplex
SC/ST)
0.0
5.0
-35.0
-3.0
35.0
1550
100Base-ZX
9
**
120 Km
74.6 mi

* 1db/km multimode fiber cable

** as per ITU-T G.652 SMF specifications

Switch Properties
Standards

IEEE 802.3 for 10Base-T
IEEE 802.3u for 100Base-TX and 100Base-FX
IEEE 802.3x for Flow Control

Processing Type
Store and Forward, non-blocking architecture
MAC Address Table Size
1024
Packet Buffer Memory
512 Kbit
Indicators
P1
This green LED is turned on when power is applied to the power #1 input
P2
This green LED is turned on when power is applied to the power #2 input
RJ45 Ethernet
These integrated colored LEDs indicate link, activity and speed for each port.
Fiber Link
Fiber link LED indicates Link and Data Activity
Environmental Specifications
Operating Temperature Ranges
Standard temperature models : 0° C to 60° C (32° F to 140° F).
Industrial extended temperature models : -40° C to 75° C (-40 F to 167° F)
Storage Temperature Range
Minimum range of -25° C to 70° C (-13° F to 158° F). -40 C to 85 C (-40 F to 185 F) for industrial extended temperature models
Operating Humidity Range
5% to 90% non-condensing
Storage Humidity Range
5% to 95% non-condensing
Operating Altitude
Up to 3,048 meters (10,000 feet)
Chassis
Aluminum with an IP30 ingress protection rating
Din Rail Mountable
DIN Rail attachment included. Mounts to standard 35 mm DIN rail in accordance with DIN EN 60175.
Removable to accommodate optional Panel/Wall mount kit
Maximum Heat Output
11.6 BTU/Hr
MTBF
913,428 hours (without fiber module)
717,100 hours (with fiber module)
MTBF Calculation model based on MIL-HDBK-217-FN2 @ 30 °C
Product Weight and Dimensions
Weight
0.19 kg, 0.3 lbs
Dimensions
30 x 115 x 70 mm, 1.18 x 4.52 x 2.76 inches
Packaging
Shipping Weight
0.34 kg, 0.8 lbs
Shipping Dimensions
170 x 260 x 70 mm, 6.69 x 10.24 x 2.76 inches
Contents Shipped
Industrial Ethernet Switch with DIN Rail attachment
Terminal block
Installation guide
Standards and Certifications
Safety
IEC 62368-1 (ed 2)
EN 62368-1:2014
UL 60950-1
CSA C22.2 No. 60950-1
IEC 60950-1:2005+A1:2009 and
EN 60950-1:2006+A11:2009+A1:2010+A12:2011
CE Mark
UL508 (Industrial)
EMC Emissions
FCC 47 Part 15 Class B
ICES-0003
CISPR 22:2008/EN55022:2010 (Class B)
EN61000-6-4
EMC Immunity
CISPR 24:2010/EN 55024:2010
IEC/EN 61000-4-2 (ESD) : Contact discharge +/- 6kV, Air Discharge +/- 8kV
IEC/EN 61000-4-3 (RS) : 80 MHz to 2.7 Ghz ; 10V/m, 800 MHz to 1000 MHz; 20V/m
IEC/EN 61000-4-4 (EFT) : DC power line +/- 2 kV, Data Line +/- 2kV
IEC/EN 61000-4-5 (Surge) : DC power line, Line/Line +/- 1kV, Line/Earth +/- 2kV, Data Line line/earth +/- 1kV
IEC/EN 61000-4-6 (CS) : 150kHz to 80 MHz; 10V
IEC/EN 61000-4-8 (Magnetic Field): 30 A/m
IEC/EN 61000-6-2 (General Immunity in Industrial Environments)
Industrial Safety
UL508 (Safety standard for Industrial Control Equipment)
CSA C22.2 No. 142
Hazardous Locations
(Hazloc)
ANSI/ISA 12.12.01, Class I Division 2 Groups A-D (formerly known as UL 1604)
CSA C22.2 No. 213
ATEX Class I Zone 2, EN60079-0,15
Laser Safety
EN 60825-1:2007
Fiber optic transmitters on this device meet Class 1 Laser safety requirements per IEC-60825 FDA/CDRH standards and comply with 21CFR1040.10 and 21CFR1040.11.
Environmental
Reach, RoHS and WEEE Compliant
Other
ECCN: 5A991
HTSUS Number: 8517.62.0020
5 year warranty
IDS-105F mit Standard-DIN-Schiene
Click on image to see larger version
IDS-105F mit optionalen Wandhalterungen/Haltewinkel
Click on image to see larger version
Diagramm für den industriellen Switch IDS-105F
PoE (Power Over Ethernet)-Diagramm für den industriellen Switch IDS-105F
Einzelmodus-/Einzelader (WDM)-LWL
Verbinden von Geräten über eine einzelne LWL-Ader (auch als "Bidirektional", BiDi oder Simplex bezeichnet)
Zur Kostenreduzierung oder wenn hinsichtlich des verfügbaren LWL Beschränkungen vorliegen, kann die WDM (Wavelength-Division Multiplexing)-Technologie eingesetzt werden. Bei der WDM werden separate Sende- und Empfangsfrequenzen für die Kommunikation auf einer einzelnen LWL-Ader verwendet. Die WDM-Technologie nutzt die Tatsache, dass Glasfasern viele Wellenlängen gleichzeitig übertragen können, ohne dass es zu einer Interaktion zwischen den einzelnen Wellenlängen kommt. Daher kann eine einzige Faser viele getrennte Wellenlängen-Signale oder Kanäle gleichzeitig übertragen. WDM-Systeme sind in verschiedene Wellenlängenmuster unterteilt, herkömmlich/grob (CWDM) und dicht (DWDM).
Bei Verwendung eines Einader-LWL benötigen Sie bei der Verbindung von LWL-Geräten untereinander eine "Aufwärts"- und eine "Abwärts"-Seite.
Perle bietet eine Vielzahl von Einader ("Aufwärts/Abwärts")- Ethernet-Switches und -Medienkonvertern für die Nutzung mit einadrigen LWL an.
Select a Model to obtain a Part Number – IDS-105F
Std = Standard Temperature models : 0° C to 60° C (32° F to 140° F).
Ind = Industrial Extended Temperature Models : -40° C to 75° C (-40 F to 167° F)
Models with 4 x 10/100Base-TX (RJ45) Connectors

Model

Temp

Choose your Fiber Connection from the table below
100Base-X Duplex Fiber

Fiber
Connector

Transmit
(dBm)

Receive
(dBm)

Power
Budget
(dB)

Wavelength
(nm)

Fiber
Type

Operating
Distance

Min

Max

Min

Max

IDS-105F-M2SC2
Std
1 x Duplex SC
-20.0
-12.0
-31.0
-14.0
11.0*
1310
MMF
5 km*
(3.1 mi)
IDS-105F-M2SC2-XT
Ind
1 x Duplex SC
-20.0
-12.0
-31.0
-14.0
11.0*
1310
MMF
5 km*
(3.1 mi)
IDS-105F-M2ST2
Std
1 x Duplex ST
-20.0
-12.0
-31.0
-14.0
11.0*
1310
MMF
5 km*
(3.1 mi)
IDS-105F-M2ST2-XT
Ind
1 x Duplex ST
-20.0
-12.0
-30.0
-14.0
10.0*
1310
MMF
5 km*
(3.1 mi)
IDS-105F-S2SC20
Std
1 x Duplex SC
-18.0
-7.0
-32.0
-3.0
14.0
1310
SMF
20 km
(12.4 mi)
IDS-105F-S2SC20-XT
Ind
1 x Duplex SC
-18.0
-7.0
-32.0
-3.0
14.0
1310
SMF
20 km
(12.4 mi)
IDS-105F-S2ST20
Std
1 x Duplex ST
-18.0
-7.0
-32.0
-3.0
14.0
1310
SMF
20 km
(12.4 mi)
IDS-105F-S2ST20-XT
Ind
1 x Duplex ST
-18.0
-7.0
-32.0
-3.0
14.0
1310
SMF
20 km
(12.4 mi)
IDS-105F-S2SC40
Std
1 x Duplex SC
-5.0
0.0
-34.0
-3.0
29.0
1310
SMF
40 km
(25 mi)
IDS-105F-S2SC40-XT
Ind
1 x Duplex SC
-5.0
0.0
-34.0
-3.0
29.0
1310
SMF
40 km
(25 mi)
IDS-105F-S2ST40
Std
1 x Duplex ST
-5.0
0.0
-34.0
-3.0
29.0
1310
SMF
40 km
(25 mi)
IDS-105F-S2ST40-XT
Ind
1 x Duplex ST
-5.0
0.0
-34.0
-3.0
29.0
1310
SMF
40 km
(25 mi)
IDS-105F-S2SC80
Std
1 x Duplex SC
-5.0
0.0
-34.0
-3.0
29.0
1550
SMF
80 km
(50 mi)
IDS-105F-S2ST80
Std
1 x Duplex ST
-5.0
0.0
-34.0
-3.0
29.0
1550
SMF
80 km
(50 mi)
IDS-105F-S2SC120
Std
1 x Duplex SC
0.0
5.0
-35.0
-3.0
35.0
1550
SMF
120 km
(75 mi)
IDS-105F-S2ST120
Std
1 x Duplex ST
0.0
5.0
-35.0
-3.0
35.0
1550
SMF
120 km
(75 mi)
* 1db/km multimode 50/125 micron fiber cable
Models with 4 x 10/100Base-TX (RJ45) Connectors

Model

Temp

Choose your Fiber Connection from the table below
100Base-X Simplex (BiDi) Fiber

Fiber
Connector

Transmit
(dBm)

Receive
(dBm)

Power
Budget
(dB)

Wavelength
(nm)

Fiber
Type

Operating
Distance

Min

Max

Min

Max

IDS-105F-M1SC2U
Std
1 x Simplex SC
-15.0
0.0
-28.0
-8.0
13.0
1310 / 1550
MMF
2 km
(1.2 mi)
IDS-105F-M1SC2D
Std
1 x Simplex SC
-15.0
0.0
-28.0
-8.0
13.0
1550 / 1310
MMF
2 km
(1.2 mi)
IDS-105F-M1ST2U
Std
1 x Simplex ST
-15.0
0.0
-28.0
-8.0
13.0
1310 / 1550
MMF
2 km
(1.2 mi)
IDS-105F-M1ST2D
Std
1 x Simplex ST
-15.0
0.0
-28.0
-8.0
13.0
1550 / 1310
MMF
2 km
(1.2 mi)
IDS-105F-S1ST20U
Std
1 x Simplex ST
-14.0
-8.0
-32.0
-3.0
18.0
1310 / 1550
SMF
20 km
(12.4 mi)
IDS-105F-S1ST20D
Std
1 x Simplex ST
-14.0
-8.0
-32.0
-3.0
18.0
1550 / 1310
SMF
20 km
(12.4 mi)
IDS-105F-S1SC20U
Std
1 x Simplex SC
-14.0
-8.0
-32.0
-3.0
18.0
1310 / 1550
SMF
20 km
(12.4 mi)
IDS-105F-S1SC20D
Std
1 x Simplex SC
-14.0
-8.0
-32.0
-3.0
18.0
1550 / 1310
SMF
20 km
(12.4 mi)
IDS-105F-S1SC20U-XT
Ind
1 x Simplex SC
-14.0
-8.0
-32.0
-3.0
18.0
1310 / 1550
SMF
20 km
(12.4 mi)
IDS-105F-S1SC20D-XT
Ind
1 x Simplex SC
-14.0
-8.0
-32.0
-3.0
18.0
1550 / 1310
SMF
20 km
(12.4 mi)
IDS-105F-S1SC40U
Std
1 x Simplex SC
-8.0
-3.0
-33.0
-3.0
25.0
1310 / 1550
SMF
40 km
(25 mi)
IDS-105F-S1SC40D
Std
1 x Simplex SC
-8.0
-3.0
-33.0
-3.0
25.0
1550 / 1310
SMF
40 km
(25 mi)